Bent over in the hot Ugandan sun, fixing a broken car engine for just a few dollars, Isaac thought back to his rural home district. While life there had been hard, his current life in the dusty, noisy, hot city of Kampala was not what he had imagined. And it was much harder to make money than he had anticipated.
"What I was earning was for survival, for food and shelter," Isaac explains. "It was so little, I could hardly save any of it."
Isaac had come to the city of Kampala to live with an uncle when he was 16 years old, because his family couldn't afford to send him to school. For the next few years, Isaac did any job he could find – fixing cars, being a porter, or doing work around people's homes. He earned just enough to keep him off the streets, and Isaac was losing hope that the future would look any different.
One day, as Isaac was fixing what he says felt like his hundredth car engine, he heard a landlord asking around for someone to empty his pit latrine. It was full of waste, and tenants were complaining about the smell and flies. Desperate to earn more than he did fixing cars, Isaac offered to clean out the latrine. It was a long and hard process – Isaac didn't have the right equipment or any knowledge about latrine-emptying. He only hoped it might provide a better way forward for his life.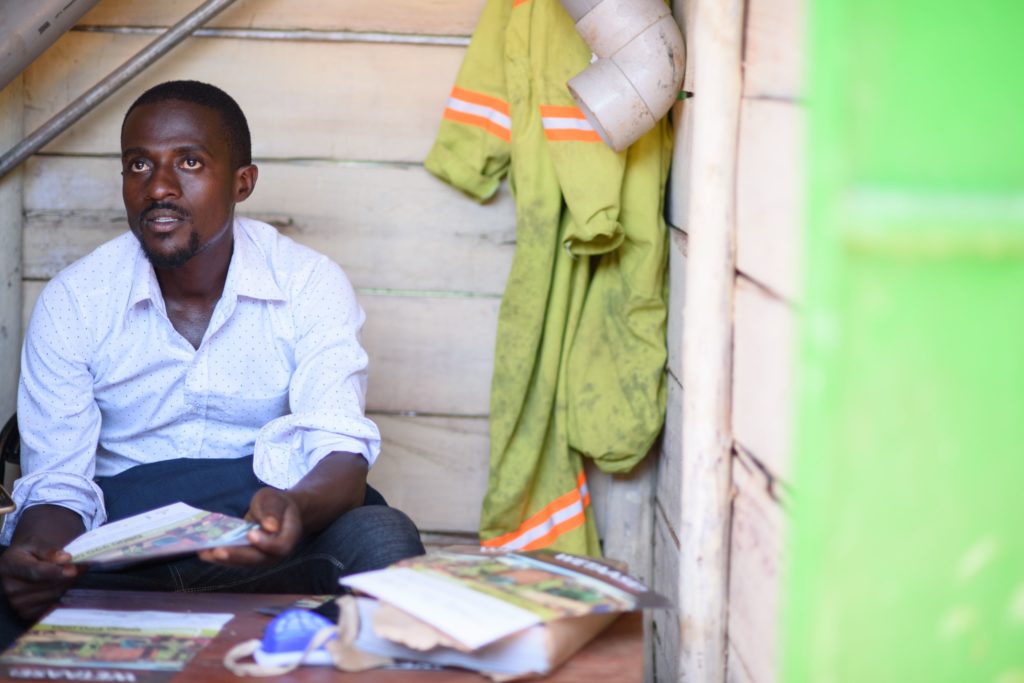 Soon after emptying that first latrine, Isaac met a man who had been trained by Water For People to empty latrines using a gulper – a handheld tool that removes sludge from latrines. It's useful in crowded city areas where tanker trucks can't access.
"Together, we moved around the Kibuye area with a gulper and a training manual given to us by Water For People, which explained the importance of pit emptying," Isaac shares.
Isaac never looked back. He recognized the need for pit emptying services in his city, and he saw a way out of his day-to-day existence. He started his own sanitation business, and Water For People helped him set up a main office and funded some initial equipment. Today, Isaac employs two men who he has mentored and trained to do his same work. They travel with a small truck to the hardest-to-reach parts of the city and empty pit latrines, keeping Kampala cleaner and healthier. Isaac charges just over $25 USD to empty a pit latrine, which gives him a profit of over $125 per month – a life-changing increase from the few dollars he used to earn fixing cars.
"Do not look down on any job, even pit emptying," says Isaac.
This job has revolutionized Isaac's life. And beyond earning a better living for himself and his family, he's a part of transforming Kampala into a clean, healthy city.