"My school uniform had lost its original color," says 13-year-old Martin. The river water his family had to use was so dirty, it discolored all of their clothes and even changed the color of their food.
Martin spent an hour each day walking to the river for this contaminated water, which took away time he could have been spending on schoolwork.
Martin lives with his grandmother, 71-year-old Dafuroza, in Kamwenge District, Uganda. Dafuroza has seven sons and 10 grandchildren, and her home is in the center of four homes where some of her sons live.
"My grandchildren wasted a lot of time walking for water instead of concentrating on their schoolwork," Dafuroza says. "Members of my household suffered from stomachaches and other illnesses, and it cost money to seek treatment. We had given up on wearing white clothing because it lost its brightness when we washed it with the water from the stream. We spent a lot of time fetching water instead of doing productive work."
The water situation was so bad, Dafuroza and her family were planning to migrate to the neighboring district.
In 2015, all of that changed. Defuroza got a tap fitted with a prepaid water meter next to her kitchen, which has a private connection to the community water system.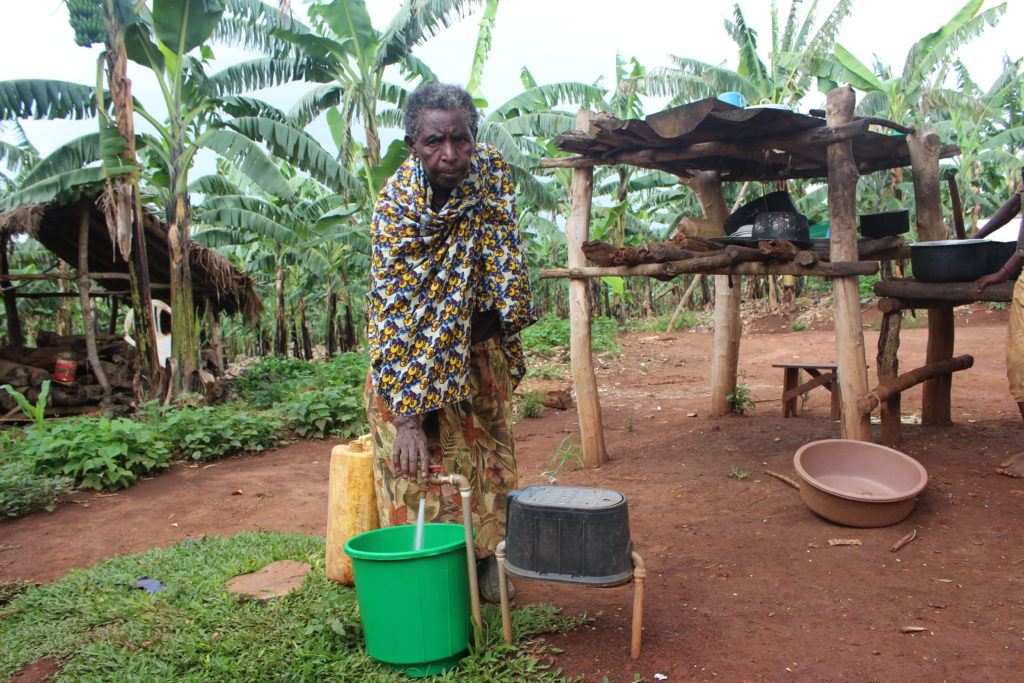 Defuroza is proud to have safe water in her yard.
"Safe water and good hygiene are equally as important as good health and prosperity," she says.
Defuroza's typical day includes saying her morning prayers, cleaning, digging in her garden, and preparing lunch and dinner for her seven-member household. And with reliable water at her home, now she can complete chores like cooking and washing clothes and dishes much more efficiently and hygienically.
She believes getting a private water connection in her courtyard has greatly impacted her grandchildren's education. Like his grandmother, Martin can hardly hide his excitement about having access to water.
"Now I have time to play and to read my books," Martin says.
Because Martin spends less time walking for water, his dream of becoming a teacher is finally within reach. "He has always talked of becoming a teacher just like his uncle," Defuorza says.
With water readily available, not only does their family have more time and clean clothing, but everyone is healthier and their futures are brighter.