Every day at 7 am, Cementi Mendozo opens his grocery store in a local trading center in Chikwawa District, Malawi.
Ten years ago, he started noticing people coming into his shop asking for spare parts for boreholes when they needed to do maintenance or repairs on community pumps. Cementi started wondering if adding borehole spare parts could be a profitable business move that would also benefit his community.
Because his shop is one of the most-frequented in his community, Cementi's shop was selected to sell spare parts, and since then he has been trained by Water For People on how to sell and market his new business venture. "I was trained in business skills, how to set prices, keeping records, and also on how to promote and market my business," he says.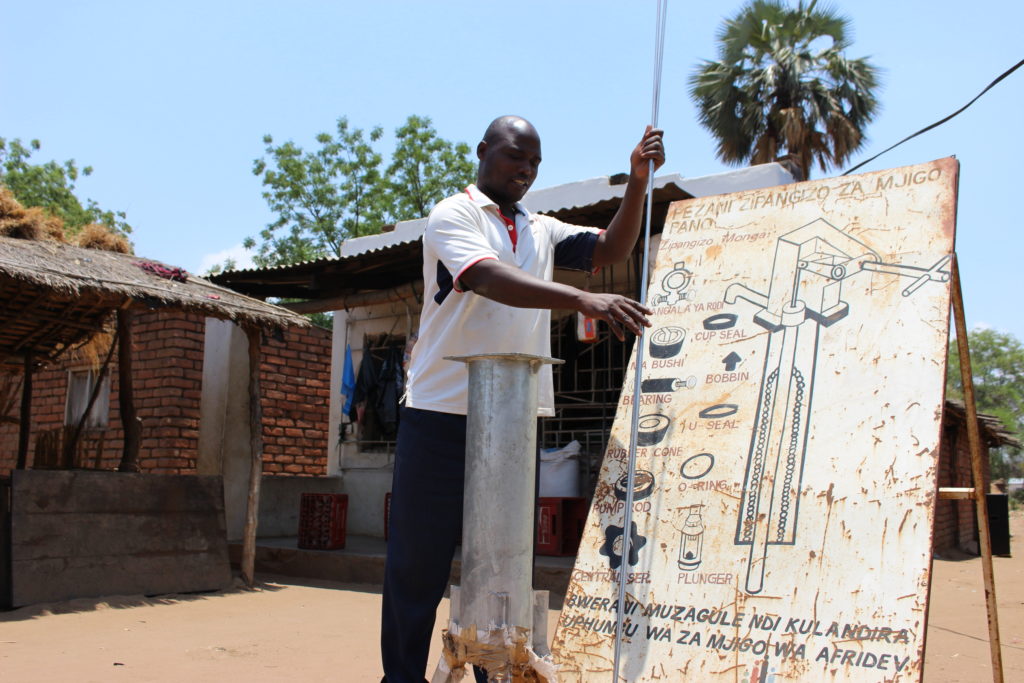 Cementi began advertising his new business venture through posters and flyers, and also asked the local hand pump mechanics, who are responsible for fixing water systems when they need repair, to start spreading the word.
"Slowly, I started making profits," he said.
Today, his main customers are members of the various water committees who live in the surrounding area and help manage local water points. Cementi's business has continued to grow, and his wife and seven children are feeling the benefits of Cementi's business addition.
"The borehole spare parts business contributes heavily toward paying my children's school fees," he says. "I have a big family and this business has helped me ensure that my family is well-fed."
Cementi is already looking to the future for his business.
"I have plans to have a wholesale hardware shop that will stock many borehole spare parts, so that other small shops around Chikwawa District can buy from me," he says.
As he pursues that dream, Cementi is working faithfully at his shop each day until 6 pm, selling groceries and spare parts to anyone who comes by. He'll even come into his shop afterhours if necessary, because he understands the importance of businesses like his for keeping water flowing.