The 216 villages in the Traditional Authority of Chapananga in Chikwawa District in Malawi have been declared open defecation free – a huge milestone for the district, and for Water For People.
"Today is a very big day for our community," said community member Samuel Ngomondo at the Open Defecation Free celebration that took place in April. "The celebration symbolizes a change of behavior and state of living to the community. We never thought we would reach this far."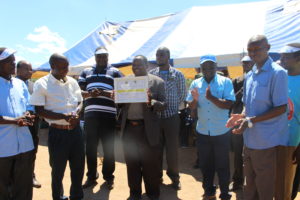 In sustainable water and sanitation projects, building infrastructure is just a first step. People must also recognize the importance of the new services and be motivated to use them. Fostering this type of behavior change takes time, and is one of the most difficult parts of water, sanitation, and hygiene sector work.
But change has taken hold, and is spreading through places like Chapananga that are home to tens of thousands of people.
Chapananga's open defecation free milestone is the result of Water For People's implementation, along with partners, of the Community Led Total Sanitation (CLTS) model, which encourages community members to promote a shift in behavior change among themselves and move toward safer defecation practices. District health staff visit communities and show them how unsafe defecation practices can contaminate food and water, with the goal of prompting families to not only build latrines but to understand the importance of using them.
Samuel Ngomondo says the community used to think latrines were a waste of time and resources, and people would instead go to the river or to the bush to defecate. He says through CLTS, everyone's mindset shifted.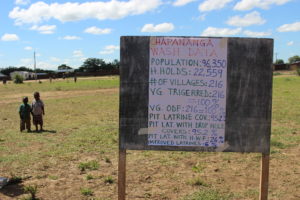 As the CLTS model began to change attitudes, families started building latrines. But then the floods hit in 2015, wiping out much of the newly built sanitation infrastructure, and it seemed like Chapananga might lose some of its momentum.
As soon as the floods subsided, however, community members mobilized among themselves to prioritize rebuilding their sanitation facilities. They did so independently of support from Water For People or the district government – a sign that behavior change had truly taken place and is there to stay. Today, Chapananga's population of over 96,000 people is open defecation free.
"I can see a very bright future for Chapananga," Samuel says. "Before we started using latrines we faced frequent cholera and diarrhea and spent more time and money taking care of sick family members. I have a healthy and strong family now."
Chikwawa District government officials are encouraged by the progress in Chapananga, and they largely contribute it to CLTS.
"It has not been an easy road for Chikwawa," says Veronica Nkukumila, the Chikwawa District Environmental Health Officer. "When Chikwawa District was faced with floods, it destroyed a lot of infrastructure. Community members were still able to reconstruct their latrines because they learned how important it was. CLTS has made the community more aware of the harm that comes with open defecation."
Veronica hopes Chapananga is just the first step toward all of Chikwawa District becoming open defecation free. Since 2013, latrine coverage in the district has increased from 49 to 61%.
"There is hope for all of Chikwawa District to become ODF," she says. "District staff are in the forefront trying to reach everyone."